Top 5 Trending questions after Game of Thrones episode 1 and 2
Game of Thrones is now the most trending topic these days. Originally this series is produced by the USA but the whole world having the craze of it.
In 2019 lots of website other than HBO started telecasting episodes of Game of Thrones and count of numbers of viewers increasing drastically day by day.
Apart from all these queries, we will share some Trending questions asked by people ( viewers ) across the globe about | Game of Thrones |... Let's start
Trending Questions after Episode 2 of Season 8
1) How old is Arya in Game of Thrones?

On 17th April 2011, the date of the first episode of Game of Thrones Arya declared that she is of 11 years old and as per observation it can be concluded that this Fantasy and drama series is moved at about of one year per episode.
So, according to the count of episode and observation, Arya is 18 years old now in 8th Season and her way of representing herself is on top.
2) Is Gilly pregnant?

The above-asked question is asked by millions of people around the world after the first & second episode of | Game of Thrones | was on Air.
What made viewers think like this can be understood by below-provided comparison of Gilly's image in the previous and current episode.
( Sam and Gilly: Freefolk | Season 8 | )
Image ( Game of Thrones Season 6 Cliffhangers )
In the above two pictures, you guys can observe the difference in body weight and size of Gilly ( Hannah Murray ).
Here are some trending gossips about Hannah this change//
During the episode, lots of questions raised by the viewer's and these are expressed by them in a strange manner. Firstly a viewer Predicted that Gilly is pregnant and the same time others commented that is it looking like
Hannah Murray is actually pregnant apart from the screen.
3) Who is ghost in Game of Thrones?
Inside the Game of Thrones, the ghost is an Albino direwolf around bounded to Jon Show. Ghost is litter mate of

Grey Wind

,

Lady

,

Nymeria

,

Summer

, and

Shaggydog

.
Ghost was discovered by stark children after his mother killed by a stag and he later on accepted by Jon Snow because he is the only pups fitting perfect for Jon.
Jon put his name " Ghost " because he never makes a sound and that is why he called him Ghost.
Why Jon choose Ghost???
Jon Snow chose ghost as a direwolf because there are some characteristics which are similar in both like...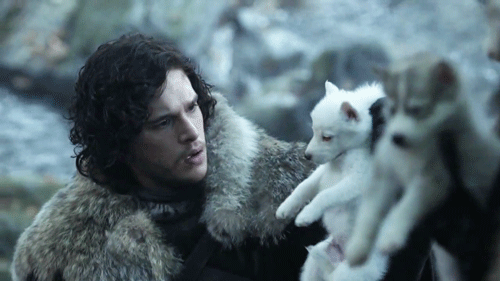 Jon was a half-brother and he is not close to other brothers and sisters, even he is part of family and Siblings but he is also a little bit apart. Ghost has a similar as of Jon because he is Albino, he is not making a noise like others. So he is related to Direwold but one apart as well.
4) Who is going to die in Game of Thrones???
Till the time, a number of characters playing their roles as it is and most of them are alive but on Sunday's episode when Walking dead army will reach the Northern Capital, Most of these characters will die...
Most probably those characters will alive after this huge war who is in the main role of the series.
" The Battle of Winterfell " will clear everything about what will happen next and who is gonna die in this unstoppable war.
5) Which Dragon is a White Walker?
Before starting with this question we need to know what is a White Walker?
A
White Walker
is a
humanoid
creature from the
HBO
television series
Game of Thrones
and the
George R. R. Martin
novel series
A Song of Ice and Fire
on which it is based. Primarily referred to as
the Others
in the novels, White Walkers are a supernatural threat to mankind who dwell north of
The Wall
in
Westeros
.
[1]
[2]
The Verge
named them among "the most visually iconic creatures on the show".
[3]
White Walkers are also featured in the show's merchandising.
( Source Wikipedia )
Now coming on the actual trending question, " Which dragon is a White Walker "?
In the last episode of 7th Season, we saw that Knight King killed Viserion and turned him into a Wight Walker and now he is using Viserion as a weapon against his enemies.
We also saw that Knight King rode on Viserion's back to the Wall, where Viserion proceeded to breathe blue fire upon the wall and a blue flame can be seen coming out from his mouth.
Most of the viewers were confused with that blue flame and guessing it as a flame of ice but as it is clear now it was just a flame of fire which was of blue color.
Hoping all your latest queries were answered but still wanna ask something kindly comment below.