Do you remember those childhood memory...have a look...
Those shorts...Those ties.
Those ID cards, Those Flies.
Those dirty shoes I like...
I like those precious smiles...
Some negative words in this post are used for Appreciation, like ( Bastard, Rascals, Etc )
Were you a child ???....Aw, how stupid question it is you must be and you are well known of those stupid and rascals who was a part or maybe our whole life...
People have different faces and in each and every face we have a friend circle.....sometime it might be a semicircle ( a group of 2 or 3 friends ).
I hope that you still remember those days when you and your bastard friends were playing in the mud beside the road and your parents were shouting...
Using the classroom as a playground was our priority and back benches were always waiting for us...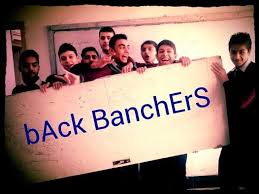 After spending the whole day in gossips, the last 30 minutes look like 30 years and every minute is passing like "A slow speed train in front of the railway crossing ".
Topic going interesting right.......hahaha
In every group, there is a person who is multitalented... how ?? kindly check below//
Name = Unknown Species.
Talent Category = Cutiyape
Example ( A good actor who can make you fool anytime & anywhere, A abusing partner, The one who never came in exams with a pen, The one who never come with his/her own lunch, Likes to dance in drainage water during rain, and much more ).
Qualities are unlimited but time is limited so let's move on ( kindly mention a uniqueness of your bestie... in the comment section down below. )
Bunking the school and having a crush in every class is our inseparable memories and when teachers catch, suddenly she becomes our cousin sister. 😅😆.
Parents and teachers encourage to play cricket, football, and basketball but legends are doing something different and we continued with " Ghodi Ghodi "...
After the whole controversy, we reached in class 12th and gave exams...
We promise to be in touch always, on the farewell day the whole school was in a feeling of deep sorrow.
Since 1 year passed and no sign of those memories now...
Some are busy to become " Charted Accountant ( CA ) " some are behind to clear IIT and some of them are supporting their family...
No one have time for gossips neither for those old memories... human is running for material needs as so I also.
I always wanted to skip school but now it is showing how precious those memory are..
And now I wishing to be a child and wanna see again those playground, streets and my lovely school.
Childhood is a lovely memory..
Child is a precious stone..
____________________________
____________________________
The next two line is for you. So go through the deep of your memories and write a quotes for you childhood and high school friends.
In the End I hate to say good bye...