14th Feb, A deadliest attack in Pulwama and Country in Deep Sorrow ###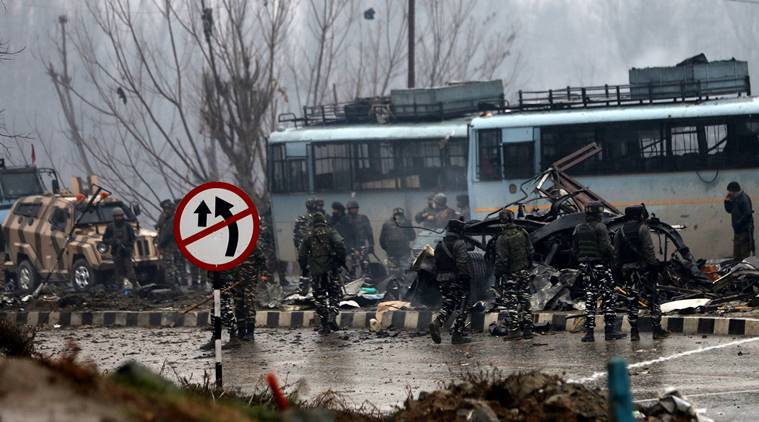 People forgetting to learn, they forget to pray.
People try to save, they killed away.
We were in happiness to celebrate Valentine's,
Someone came silently and done this crime.
They had fear to lose their lives in the battlefield
The above lines is for those unwanted people of the world who is a burden of their own soul.
We never try to show ourself great, because a diamond does not require to prove what it is.
Thursday, 14th February
Our Great country was fell into a sorrow, sorrow of losing our 44+ Kohinoors who was returning to their mother's heart ( Duty ).
Our mother gave us life, the father teaches us lessons but a soldier is one who protects us from the terror.
India is the country where we are trying to spread love and joy. I agree that there are some disputes in political parties and states but when talking about India we all are pride to be an Indian...
Ye desh hai veer jawano ka alwelo ka mastano ka,
Is desh ka yaro kya kehna, ye desh hai duniya ka gehna.
And today our neighbor
Pakistan
hurt us. It's not the first time they do it on regular basis but in their wish to spread sorrow they forget that whom they targetted.
They targetted our pride Soldier who returning to their duty, duty to protect, duty to make us happy.
Our Pride Indian Army
Those brave people are immortal for us and are so their memories.
A well-known terrorist group Jaish-e-Mohammad ( JeM ) claimed the responsibility of one of this deadliest attack in Pulwama and Pakistan still defending them.
Militants trying to increase terror...
In our India, we teach our child to become a good human being who will create a new dynamic world but Pakistan giving AK-47 and AK-56 to their small children around 10 years old.... do Pakistanis really think it will build a good human from them.
Really not
Pakistani Children with Dangerous Weapons...
They can only become a Terrorist as their parents are.
You must be remembered when you tried to cut vegetables and your finger got hurt really how painful was the situation but our Kohinoor's gave their precious life for us and it is invaluable...
Wo jagte hai hum sote hai,
Wo dhoop mai, hum chao mai.
Humari Diwali, Unki Duty
Hamari Holi, Unki Duty.
Lines for our brave and pride soldiers...
Sard ki subah ho, ya garmee ki dopehri,
Ya " Aankho me Choli " khel rhi ho kohre ki ghata gehri.
Behti nadi ka amrit ho, ya ho jheel thehri,
Sabne tujhko naman kiya is sahas pr teri.
Us din duty pr tatpar ek sipahi mujhe mila,
Usse me pooch pada, ye kesa bhes tera.
Itne me wo bol pada, beta tum ek kam kro,
khoob padho likho or desh ka roshan name kro.
Ab sayad wo nhi rha na reh gai uski baate,
Reh gai to uski bs sunehri yade.
This is what our soldier are teaching.
Now time indicating us to teach a lesson to all of them who are trying to terrorize the world..
The time overs for You and Me now it's like " ONLY WE AND ONLY WE ".
People from all over the country are on road and asking for justice.
Candle March in Delhi and all over India shows our strength and the latest news covers information of that three terrorists including the Mastermind ( Kamran alias Rasheed Ghazi ) of Pulwama attack were killed by Indian army and local Police.
They are trained militant of Pakistani terrorist group Jaish-e-Mohammad ( JeM ) and Kamran is also right hand of Masood Azhar.
This bastered must be kill soon to decrease terror..
But they are no more available to hurt the world and now we are taking forward steps for kill all.
Keep the politics away for this matter.
What we only want is Justice
Salute to My pride Soldier and their brave Mothers.
Kindly share the post with all the Indians who want to remove the terror and terrorist both from the world and want the revenge of this Shameless attack.. 😢😢😢